Christmas Letter 2007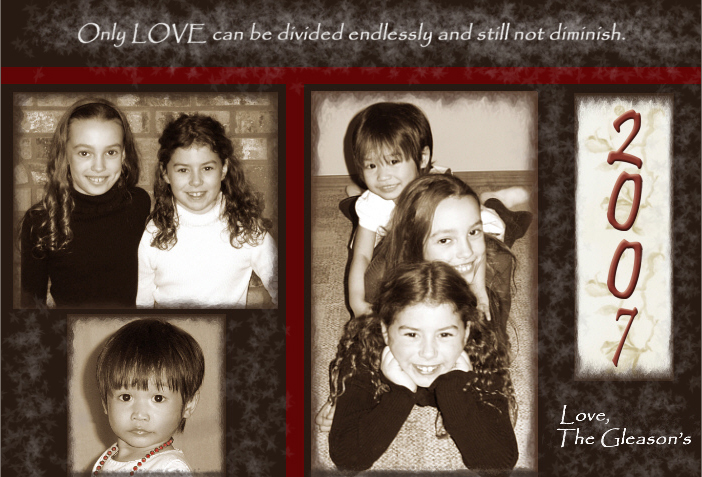 The best of all gifts around any Christmas tree:
The presence of a happy family all wrapped up in each other.
- Burton Hillis
WHAT THE GLEASON FAMILY HAS LEARNED THIS YEAR THANKS TO MYLIE:
OUR TOP 10 LIST:
It's impossible to get everything done in the space of a day that you want to get done. Playing peek-a-boo with a two year old is just too much fun

J
Diapering a child is like riding a bike…you don't ever forget how.
Don't ever expect a do-it-yourself remodeling project to get completed quickly after you have kids. Gymnastics, play practice, pre-school, Halloween costumes, homework, doctor's appointments, play time…it's all more important than that sheetrock you have to hang.
Modern medicine is wonderful! Kenzie had her 1st surgery in August (tonsillectomy) and Mylie's congenital heart defect was repaired on December 18th!! Hopefully we can stay away from the hospital in 2008!
"Getting to be a big sister for the first time is 'awesome' " – Kenzie
"Mylie's really changed my life in how I look at God. She's a little miracle." -- Dani
"I gave birth to two children in hospital rooms and I met my third daughter for the first time in a sparse hotel lounge, but I can tell you honestly there is no difference. They are all my children and hold the same place in my heart." -- Kris
"I can't think of a quote to give you right now. I do know that I'm walking down the hall in the Mall right now with a beautiful little Mylie holding my hand and looking up smiling at me. My heart is full." -- Dave
God doesn't always want us to be "comfortable". Sometimes He wants us to leave our comfort zone and experience the thrill of knowing that we are answering His call.
We may be busy and our lives may be chaotic, but we would start the whole adoption process anew again in a heartbeat. As soon as we have the financial resources, we would love to go back to China and bring another waiting child home. There are thousands of children over in China right now, especially those with special needs like heart conditions, minor limb deformities and cleft palates that are just waiting for a family. I had been trying come up with a way to describe what "adoption means" for months, but just a few weeks ago, Danielle did it for me. She wrote an essay and began it by saying "Adoption is giving a child a home. Giving a child a family. Giving a child hope." We will be waiting with anticipation for our next opportunity to do just that. We have been so blessed!
Wishing you all the best in 2008!
Kris and Dave Gleason – Danielle, MacKenzie, and Mylie